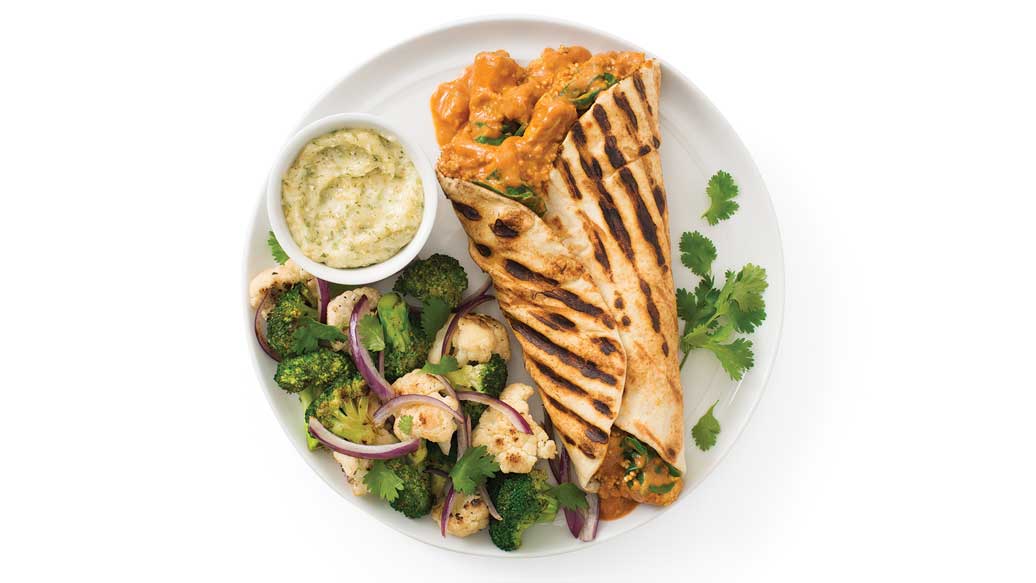 Amount of spices used in Sheridan Davis campus Butter Chicken Wrap
HUNGRY! Want something healthy to eat? Now, we have the original taste of butter chicken in a wrap. Butter chicken wrap is an Indian tradition wrap. It contains butter chicken mixed up with salad and some other sauces. The original taste of butter chicken is sweet and mildly spicy. The new butter chicken wrap coming up in the PSB cafe of Sheridan Davis campus will allow you to choose your spice level. The amount of spices used in Sheridan Davis campus butter chicken wrap has a variety of options. you can customize the spices used in making curry for butter chicken as well as the sauces used in the wrap.
Everyone will be happy to hear that now they can customize their all-time favorite wrap in Sheridan's PSB cafe. Customization is not only limited to spices but is also applicable to the choice of vegies used in the wrap. If a student is allergic to lettuce, he or she can have kale instead of it. They can pick any fresh vegetables and pickles without any additional cost.
Variety of spices used to make Butter chicken wrap in Sheridan college
Butter chicken is made up of various kinds of spices such as Paprika, Cardamom, red chili, green chili, ground cumin, and cayenne. Butter chicken wrap consists of spices used in butter chicken along with hot buffalo sauce and mild Portuguese garlic sauce. For people who can not eat spicy food, sweet and sour sauce, chipotle, mild mayo, barbeque sauce are the only options. For those who like spicy food, fresh Jalapenos are a good option to make the wrap hot, tangy and spicy.
You can make a special homemade butter chicken spice mix using the list of following spices:-
1/2 tsp ground cinnamon
2 tsp smoked paprika
3 tsp garam masala
2 tsp ground coriander
1 tsp ground cardamom
2 tsp ground cumin
1 tsp ground ginger
2 tsp ground turmeric
1/2 tsp cayenne pepper
Benefits of Eating spices
Spices used in making butter chicken offers many health benefits. One of the amazing fact about eating spicy food is that people who eat spicy food tends to have 14% less chances of death in comparison to people who do not eat spicy food. Some spices such as Capsaicin present in Red chili pepper is used as an antioxidant which increases the metabolism of a human body. Moreover, Turmeric and cayenne are good for boosting heart health.
First of all, Cardamom and Cinnamon are good for preventing acidity in the body and also fights with bacteria and viruses when you fall sick. Another benefit of eating cardamom and ginger is that they help in maintaining low blood pressure. A person who has low immunity such eat Cayenne and garlic daily mixed up in any form to increase blood circulation. If you have a running nose and upset stomach, just make tea with cardamom and ginger in it and you will feel better within a few minutes.
https://www.allamericanseasonings.com/several-benefits-of-adding-spices-to-your-food/
How to make butter chicken wrap in a Minute?
Everyone loves to eat butter chicken wrap but hate to wait too long for it. Here is the recipe to quickly make butter chicken wrap in one minute. As a result, The staff at PSB cafe can use this video to train its new employees to quickly serve its customers. Most of the students do not have enough time during their classes so they can not wait for too long especially when they are starving. In order to ensure the success of this new customizable spicy wrap, PSB cafe needs to ensure fast customer service.
https://www.youtube.com/watch?v=Tj8uI-00tGQ
If You liked my information than give your review on our social media profile or comment box below.